Customized treatment for every stage of life: Prescription Drug Trend Report case study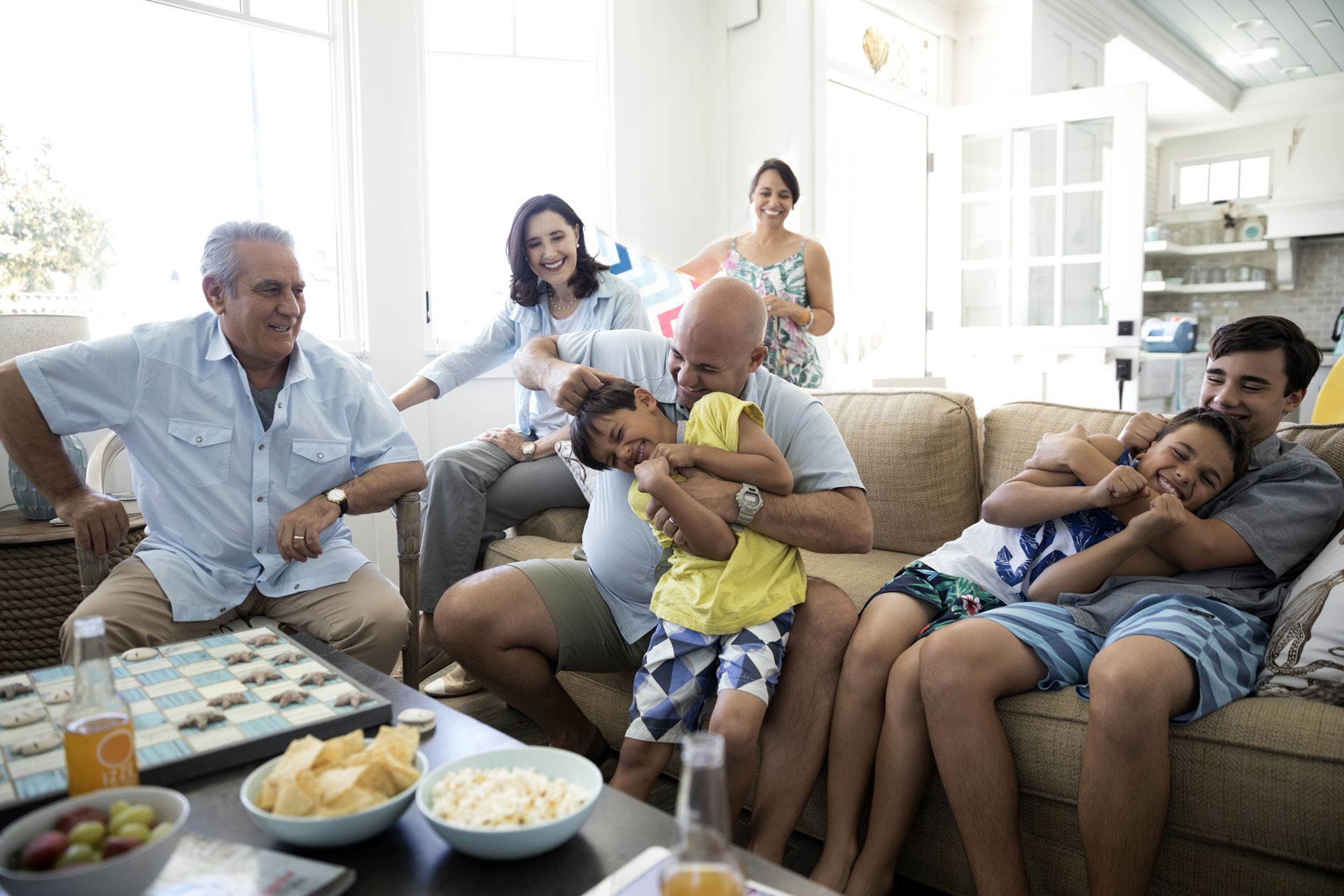 The Papadopoulos family* is a typical Canadian family in many ways. Helen and John are hard-working parents of three growing boys. Helen's parents, Gus and Georgia, live with them. A family of seven, spread over three generations. The Papadopoulos family is a case study of how different Canadians at different stages of life face dramatically different health and personal challenges that require different health interventions in order to optimize care and produce the best possible health outcomes.
Let's meet the Papadopoulos family:
For the purposes of the case study, we've focused on four members of this family:
Helen, who takes medication for low thyroid function;

John, who lives with a very painful inflammatory condition called ankylosing spondylitis (AS);

Alex, their middle child, who deals with severe asthma; and

Gus, Helen's father, who has diabetes.
Mom - Helen
Helen is 44 years old. She runs the household, cleaning, preparing meals, arranging medical appointments, etc. for the entire family. She has very little free time, often having to drive her three kids to three separate hockey and soccer practices or games in the same day. She also works full time.
Helen suffers from hypothyroidism, which means her thyroid doesn't work like it should. Without treatment, she is subject to symptoms like low energy, muscle weakness and weight gain, among others. Fortunately, Helen has been on levothyroxine for the last year. It has made a big difference, but just like many busy people, Helen puts herself at the bottom of her to-do list, which means she misses scheduled doses of her medication. Sometimes she's late a few days on ordering her refill from the pharmacy. Sometimes she just forgets. She doesn't think it's a big deal, but acknowledges that she feels run-down when she doesn't take her medication as directed by her doctor.
When Helen visits her doctor for her annual physical, she tells her that she feels tired, but doesn't mention the missed doses because she's embarrassed. She clearly needs help to stay on track with her medication, which would help her be more energetic in the rest of her busy life.
Drug plan strategies for Helen:
There are a number of things that Helen's drug plan can do to help her overcome her unique challenges. She can:
Use a home delivery program with an auto refill option to ensure that her refill comes to her before she runs out of medication. No more needing to run around trying to find an open pharmacy at the end of a busy day.

Reduce her out-of-pocket costs by dispensing three months' worth of medication at one time.
Read: 5 questions to ask when choosing a pharmacy for your ongoing medications
These strategies will help Helen stay adherent to her medication schedule and get her feeling much better.
Dad - John
John is 52. He's the primary bread winner in the family, and works long hours as an electrician. The work is often physically demanding. When he developed low back pain a few years back, he assumed he'd strained it while working in a crawl space on a job, but it turned out to be quite a bit more serious. He saw a rheumatologist and was diagnosed with ankylosing spondylitis (AS), an inflammatory condition. The doctor prescribed Enbrel®, an expensive specialty medication that John has to self-inject daily.
To complicate things, Enbrel is not John's only regular medication. He's been taking sertraline for depression, prescribed by his psychiatrist, and amlodipine for high blood pressure, prescribed by his cardiologist.
Read: Blood pressure and heart health – It's all about risk
With three different daily medications prescribed by three different doctors, John is at even greater risk than Helen in terms of taking his medication as directed. He also doesn't know for sure if the three drugs might interact negatively with one another. Finally, he is concerned about the cost of the Enbrel, which is not completely covered by his plan, and costs him several hundred dollars a month out-of-pocket.
Drug plan strategies for John:
John's plan includes access to a home delivery program and auto refills, so he has no worries about running out of medication. The plan can also help with the financial burden in a number of ways:
The plan includes Prior Authorization and Step Therapy programs, which means John would be encouraged to try similar medications with a lower cost before being approved for Enbrel.

Even if lower cost medications don't work and Enbrel is approved, the plan also points John toward biosimilars (think of them as generics for biologic drugs), which are essentially the same medicine at a lower cost.
Read: Q&A: What is generic medication?
John gets the same benefit as Helen in terms of 3-month refills for his maintenance medications and the associated savings on dispensing fees.

Finally, and probably most importantly, John's plan includes a team of health specialists who help people taking specialty medications search for alternate funding, fill out forms and coordinate benefits with other plans that may be able to lighten the load.
For specialty patients, the plan also offers access to specialist pharmacists who can help John learn how to properly inject his medication, alert him if it seems he's missing doses, and help him manage any interactions with other drugs. They can even talk to John's doctors if necessary to solve any issues with his complex treatment regime. In summary, they can hold his hand and be there for him when he's struggling with his treatment.
Read: Express Scripts Canada's Solution for Specialty Medications – Simplifying healthcare for
complex patients
Son – Alex
Alex is the middle child. He's 11. He was diagnosed with asthma when he was eight. Since then, he's had two inhalers, prescribed by his family doctor, which serve very different purposes. Alvesco® Metered-Dose Inhaler (MDI) is meant to be used once every day, and Salbutamol HFA MDI is meant to be used as needed, when he has an asthma attack (often called a rescue inhaler). The problem is that neither Alex nor his parents fully understand the medications, so he regularly misses doses of his daily inhaler, and overuses his rescue inhaler. This makes his asthma worse, he has more attacks, and uses the rescue inhaler even more.
Drug plan strategies for Alex:
The Papadopoulos' drug plan acts as an early warning system that Alex's treatment is not on track. Even before his mom, Helen, makes the time to book an appointment to talk to the doctor about Alex's worsening symptoms, pharmacists at their home delivery pharmacy used by their drug plan reach out to Helen. They alert her to the fact that Alex's daily inhaler, which should be refilled monthly, hasn't been refilled in four months, and his rescue inhaler, which should last at least 50 days, has been refilled four times in the same four months.
Watch this #AskThePharmacist video about controlling asthma during allergy season
The pharmacy puts Helen in touch with one of their pharmacists who specializes in respiratory issues. She's able to dispel Helen's misconceptions about long-term steroid use, which it turns out was largely to blame for Alex's underuse of the daily inhaler. The pharmacist explains that using the daily inhaler correctly can virtually eliminate any need for the rescue inhaler.
By providing this critical outreach and education, Helen's drug plan is able to assist to greatly improve Alex's short and long-term health, and even save money for both the family and the plan by reducing use of the rescue inhaler.
Grandfather – Gus
Gus is a 63-year-old retiree with type 2 diabetes. His private retiree drug coverage has a low limit of $1,000 per year, and Gus is not one to ask for a handout. But he's been prescribed Onglyza® to lower his blood sugar and was already taking pravastatin for high cholesterol. He's stuck between his wish not to be a financial burden and his strong concerns about the effects of his disease, including possible blindness and amputation.
Our diabetes expert and pharmacist, Aaron Aoki, discusses diabetes management in this
#AskThePharmacist video
Drug plan strategies for Gus:
Gus's plan has a managed formulary, which means his plan directs patients toward lower-cost drugs by offering a higher level of reimbursement for those drugs. Onglyza is not the most cost-effective drug for his condition nor does it deliver any additional health benefits, so it is only reimbursed at 60%. Likewise for pravastatin. But when he was just taking the pravastin, Gus could manage the $11 a month it cost him. Now with the second therapy, the total monthly out-of-pocket cost is $55 a month.
Gus' plan also includes access to specialist pharmacists. In this case, a pharmacist specializing in diabetes contacts Gus and tells him that his formulary would pay all but $4 a month if he switched from Onglyza to metformin and from pravastatin to rosuvastatin. Both are therapeutically equivalent to the higher-cost medications, and should have the same effect, for less than 10% of the cost to Gus. He likes that a lot!
The pharmacist goes on to advise Gus that he should talk to his doctor about adding an ACE inhibitor to further protect him from the risks of diabetes, and that he needs to be screened for potential complications like eye, foot and kidney disease. He also asks Gus a few questions to determine whether he may be suffering from depression or anxiety related to his illness.
The tools available through a comprehensively managed drug plan can:
Improve patient understanding of their condition,

Fill in gaps in treatment, and

Improve adherence to medication by removing financial obstacles.
Gus is not only healthier now. He also has greater hope that he can handle what's ahead.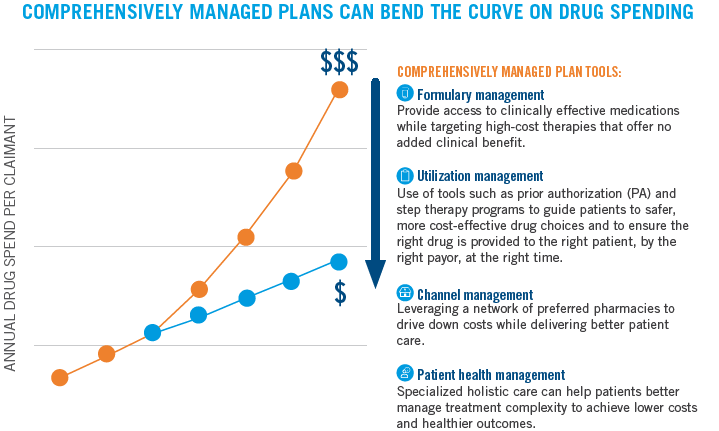 The Papadopoulos family illustrates how a comprehensively managed drug plan can be used to optimize treatment for individuals facing very different challenges that are related to their different life stages. Together, the tools included in the plan offer solutions to just about every problem that a patient might be having with their treatment. They don't understand their disease? There's a specialist pharmacist available to explain it. They don't take their meds as directed? Auto refill can help with that. They have financial challenges? there's a team that can help with that!
Thanks to our fictional family for helping to flesh out the benefits of a comprehensively managed drug plan, and how they apply to just about any patient you can imagine. Read our 2018 Prescription Drug Trend Report for more on the Papadopoulos family and the Canadian prescription drug landscape.
Read: Prescription Drug Trend Report: The calm before the storm?
* The family in the case study presented in the 2018 Express Scripts Canada Prescription Drug Trend Report is a fictional representation of a typical Canadian multigenerational family.