Cold or flu: How to tell the difference
You wake up sneezing, coughing, feel achy and can't get out of bed—how do you know whether you have a cold or the dreaded flu? It can be hard to tell them apart because of the overlap of symptoms; however, understanding the differences can help you choose the best treatment options.
Colds and flus are caused by different viruses. The common cold can be caused by more than 200 different viruses, the most common being rhinoviruses and coronaviruses. The flu, on the other hand, is caused by influenza A or B viruses.
Here's a simple comparison of symptoms that might help you know if it's a cold or the flu: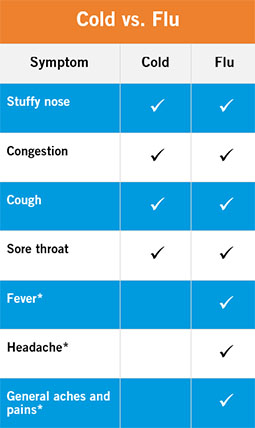 *These symptoms are less common when you have a cold.
Go to WebMD for more comprehensive tools.
Most people who get the flu may not need medical care and recover within two weeks. However, some people are more likely to get flu complications, such as bronchitis or pneumonia, which may result in hospitalization, or in rare cases even death.
People at high risk for developing flu related complications include:
Children younger than 5 years of age

Adults 65 years of age and older

Pregnant women

Residents of nursing homes and other long term care homes

People with medical conditions such as asthma, chronic lung disease, heart disease and blood disorders etc.
Prevention is better than cure!
The flu vaccine
The annual influenza vaccination is the most effective way to prevent influenza and its complications. Each season, the flu shot is updated to match the new strains that are most likely to be circulating during that flu season. The Public Health Agency of Canada recommends that everyone six months of age and older should get a flu shot as the first and most important step in protecting yourself and your family against the flu.
Read: Protect yourself and others with a flu shot
Everyday preventative actions to stop the spread of both colds and flu.
Colds and flu are both viruses, so during flu season especially, it's important to follow these common sense recommendations to help stop spreading germs:
Avoid close contact with sick people

If you are sick with flu-like symptoms, stay at home and try to limit contact with others as much as possible

Cover your nose and mouth with tissue when you sneeze or cough

Wash your hands often with mild soap and water

Clean and disinfect surfaces and objects that you come into contact with and/or think might be contaminated
Cold and flu treatments
Fluids, rest and over-the-counter medications can help relieve cold and flu symptoms. Pain relievers such as acetaminophen and ibuprofen can reduce fever and aches. It is important to read medicine labels carefully and to pay special attention to the dosages, warnings, active ingredients as well as side effects to avoid overdosing on medications. Always consult your pharmacist or doctor if you are unsure about what to take or how it may affect other medications you are taking—you don't want to risk taking a medication that may interact with a maintenance medication. Express Scripts Canada Pharmacy pharmacists are available 24/7 to members to do a full review of all the medicines and supplements a member takes or is considering.
Read: Are the supplements you're taking helping or harming your health? To know for sure, just ask your pharmacist
Even healthy people can get the flu, and in some cases, it can be serious. This flu season, protect yourself and your loved ones by getting the flu shot and taking precautions to prevent spreading germs.