World Cancer Day – Care, cure and cost
February 4th was World Cancer Day, when organizations from around the globe join in the common cause of raising awareness, raising money and influencing policy makers. All in an effort to push towards a cure for this devastating disease, and to improve care and support for cancer patients in the meantime.
Cancer is indeed a huge health concern in all parts of the world, and although it is not where Canadians spend the majority of our prescription drug plan dollars (see chart below), spending on cancer drugs is growing faster than almost any other class of drug. The reason is simple. Research.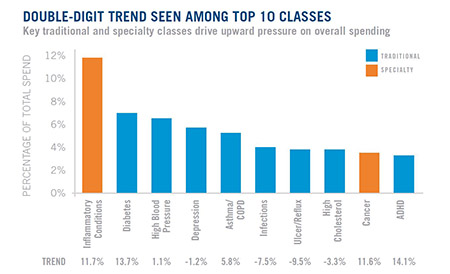 Read: The Marathon of Hope that never ends
There is no doubt that cancer is the focus of the most research in terms of finding new and innovative treatments, in Canada and throughout most of the world. Research is ongoing on many fronts, and some are very promising indeed.
The new treatments that have gotten the most media attention are gene-editing technology (e.g., CRISPR) and cell therapies (e.g., CAR-T) and therapies that use the immune system to attack cancerous cells. These and other emerging treatments have the potential to transform cancer, for the first time, from a group of fatal diseases into a group of chronic conditions that will be managed over the long term with highly individualized treatment plans.
Read: What you need to know about specialty drugs
And speaking of individualized treatment, some of the most innovative treatments being developed for cancer are highly individualized, targeting specific molecules found in a given tumour in a given patient. These therapies are in the early stages of development, but hundreds of these targeted therapies could be coming to market in the next several years. More traditional chemotherapy drugs are being reinvented to be more effective and cause fewer side effects.
It is truly a golden age for cancer research, but the next challenge, for governments, for insurers and for employers, will be to ensure that these life-saving treatments are available to all Canadians. Because although cancer drugs only account for $3 out of every $100 spent on prescription drugs today, spending is growing at a rate of nearly 12% a year, and with so many new cancer treatments awaiting approval or in development, this sharp upward trend seems poised to continue.
Read: High-cost cancer treatments save lives but threaten drug benefits
A number of drugs that had previously been administered in hospital are also being approved for home use, which means the cost shifts from government to private drug plans. This puts additional upward pressure on spending.
Express Scripts Canada, through its carrier partners, offers special programs to help cancer patients, and others with complex health conditions, navigate their healthcare journey to ensure they get the most out of their prescription drug plans. Because patients with serious conditions like cancer often require 3 or more medications and are under the care of various doctors, individualized support provided by Express Scripts Canada pharmacists can be invaluable for patients.
World Cancer Day is an initiative of the Union for International Cancer Control (UICC), a group of over 1,000 organizations in more than 160 countries, including health ministries, cancer societies, patient groups, researchers and other experts. The goal of the group is to reduce the global cancer burden, promote greater equity, and integrate cancer control into health and development agendas.